High traffic website
How to proper run a website that is supposed to receive an high volume of traffic
First of all what is an "
high traffic website
"?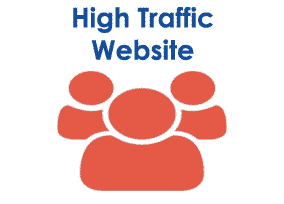 Is a website that will receive many daily visits and also many visits at the same time. Usually famous newspapers online, service provider (Google for example), e-commerce like Ebay and Amazon, Youtube, Facebook of course, Baidoo in China, Yandex in Russia, Wikipedia… You can see the list of most popular website around the world in
Alexa
Going back to our real dimensions, we can consider that over 100,000 visitors per month are "many visitors".
Can a normal hosting bear the weight of 100,000 visitors per month? If it is a static website yes! For static website is intended a website that does not use database or it uses in an indirect way. For example like the post in a blog where the page is created by a database (WordPress, CMSmadesimple or other platforms that use static plugin rendering) but once served is static, does not interact anymore. An e-commerce instead is constantly interacting with the database.
So for your 100,000 visit a day your "shared hosting" still will do a great job, if it is a quality hosting. If you have an e-commerce with that amount of visit maybe you should think to review your "hardware".
When it is time to change the hosting? ONLY when the problems will arise.
Or in a new project after evaluate the situation.
What to do when the website starts to became too slow and delivery "errors" instead of pages? If you did start small probably your website is hosted in a shared hosting. Changing from a shared hosting to a VPS (Virtual Private Server) or a Dedicate Server it can turn out to be an unnecessary expense. Often a good shared hosting can guarantee better performance.
So why people do use VPS and private servers?
Usually you need a VPS to perform operations that are not usually allow on shared environment, special applications, test purpose website, intranet between company branches and other peculiar situation that needs a total access to configuration of the server or needs of security managed in house (a financial institution for example). But for an e-commerce on a common platform like Magento, Prestashop (it does not matter the size) or other or a normal website a shared hosting with improved resources can working very fine and in a more secure way.
To read:
VPS: to be or not to be?
Without even consider the huge cost of a managed server or the huge headache of an unmanaged server. If you are able to manage it by yourself then is another matter, probably you can also be able to better write this article.
So now going back to the problem: the amount of visitors and operations reach and overwhelm the limit of the resources allocated in a shared hosting,
what to do?
Our suggested solution is going safe: use Google Cloud servers (we removed all Amazon Cloud servers services due to complains about them customers services). It does not means that the Google solution is the best in the whole World (I did not test all the solutions available on this planet), but surely guarantee the stability, reliability and the trust that you are looking for.
So we will simply install your platform (e-commerce, blog) or create your html/php customized website using that infrastructure.
So no more compare the computer offered from that company with the RAM available in a different VPS package from another provider and so on. Not coding all the pages to use appropriate CDN (content Delivery Network). We simply "travel safe" using a Google Cloud Platform where we will make the deployment of your website.
Here the link for more information:
Google Cloud Engine
Pricing
How to determinate the cost of the website and the hosting for a high traffic website?
Price of the website + service cost of deployment + Google fees
A practical example can help to understand the price structure:
A professional e-commerce (Prestashop in this example) price:
11,000 THB
(from our pricing page), first year, on renewal 2,500 THB
Deployment service: 4800/year =
4,800
THB (the deployment services costs vary depending on the project)
The Google fee for a big e-commerce with plenty of images, articles to handle much more than 100,000 vist/month (4 GB Memory, 2 Core Processor, 80 GB SSD Disk, 4 TB Transfer) 900 thb/month =
10,800 THB
/year
Total: 11,000 + 4,800 + 10,800 = 26,600 THB first year 2,500 + 4,800 + 10,800 = 18,100 THB following years (estimate only)
As you can see is still an affordable price. Please consider that it is an example, consider also that the Google fee is correct at September 13, 2019 and the price of the e-commerce does not include articles, insertion of articles and categories, customization, training and eventually taxation.
Note
For high traffic website a real quotation in advance is not appropriate as the fee of Google is based on resource usage as well as our tasks. We will anyway prepare a forecast study case by case.