QUOTATIONS AND ORDERS
webdee-seoservice.com 339/753 M. 12 Pattaya 20150 Thailand Tel. 0846363279 [email protected]
Web Design Quotation
How to request a website quotation, how to understand it, what to ask in advance and how to order the website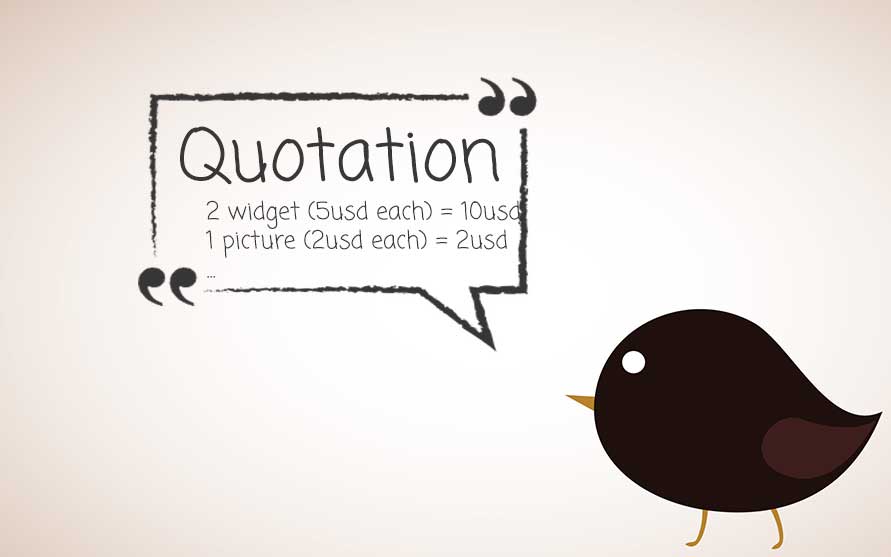 Quotation
Website from template or from examples
(Ready made website waiting for you to be filled with contents)
If you choose one of
our example themes
it will be very easy: the website will be as in the already online example. In the quotation we will state details like the number of pages you request, the timing and other. You will send to us the title of the pages and other details and then, once the website will be online, you will start to fill it with your pictures and texts.
Customized HTML/PHP website
Also in this case we will produce an example. The example instead of a browsable website will consist in layout screenshots.
Website from template or from examples managed by us
(Ready made website that we will managed for you)
As in the above case your website will be as in the example you already chosen. In the quotation, beside details like the number of pages you request, the timing and other, we will also specify the cost for us to insert the content that you will send to us by email: how many times a month, if there is a limit in the number of images and so on.
Customized HTML/PHP website managed by us
The images of the layout to be noted in the quotation, all the rest as the above case.
E-commerce from example
A working e-commerce example (without payment gateways) will be online for you to test for 14 days with also the admin password. You will be able to upload samples of products, simulate order and purchases, receiving order email, enroll as a customer. During this time you will check all the functions and note if you would like to have some customization in layout, system and functions.
After that we will create a quotation with all your custom request and prices. You can then review the quotation thinking what will be really necessary to modify (we will assist you in this process with suggestions) till arrive to the final quotation.
Once your e-commerce will be online and you will need extra modification or last minute new ideas we will quote each time. Please note that you
cannot claim
"oh I forgot I need this, can you do it for free?" or "oh, I assumed that this function was present in the platform, I did not check it, can add it for free?" or "I did expect I could do this operating procedures, in other websites is always possible, please add it" or request other free instances.
If you ask for the supplementary warranty you will have 14 days to see all details and eventually ask for a reimbursement. Besides wording that we will change free of charge (included in the annual maintenance fee), all other modification can also be done free once in a while at our sole discretion if easy but usually must be charge.
Customized HTML/PHP website
(Tailor made real estate website, tailor made e-commerce, booking system or other web customized design that include non static functions)
In this case you will still have a layout image of the website followed by a boring list of all the functions available in the quote.
Note that everything that will not be in the list of the quotation
will not be available
in the finished work even if "it is supposed to be" or "it is obvious that should be". If applicable, a not listed function or customization, will be subject to extra charge.
We encourage the customer to read and discuss the quotation. Our quotations can be revised and we can reissue at no charge and without commitment (till deposit payment) for the customer.
Training
Usually we do remotely train for free with Team Viewer and with charge (expensive) at your place/office.
Details about training will be present in the quotation as well.
Simple tasks
Simple task on existing website will be also quoted and detailed.
SEO service
In the SEO services quotation we will describe the general work we will do and the expected result at minimum. It will also clearly state that we
do need cooperation
from the customer to correctly perform the requested task.
It will also note that we have no control over the policies of search engines and if they will accept the website content now or in the future. The Client's website may be excluded from any directory or search engine at any time at the sole discretion of the search engine (not us) or directory. Google and other search engines can apply penalty, for example but not only, due to bad reviews, discrepancy from the customer company data and the real presence online of that business and for the presence of the customer website links in spam website or other past issues. Also occasionally, search engines can drop listings for no apparent reason. Often, the listing will reappear without apply any additional effort. We cannot be considering responsible about it. Also we cannot be held responsible if the customer will not follow our guidelines once optimization will be completed.
The SEO work will be done step by step so the obligations of both parties will follow a step by step development and payment scheme.
Web design Quotation
Responsibility
We are "technicians" we work for you. The customer will be the sole responsible of the website contents. You agreed that will compensate, indemnify, defend and hold harmless webdee-seoservice.com and affiliated from any damage or claim request by you or third party caused by customer's website. You will be also responsible for any person who has access to your account or computer without transfer the liability to them or other third party. Please read more in the
terms of service
.
Orders
To order a service, a domain, a product, website or anything else we offer you can follow this procedure:
Contact us by email [email protected] (Thai and English) or call +66822573592 (Thai language only), you can also use line LINEID
After explained your request you will receive some example, suggestion, links. You can interact till we formulate a quotation (the quotation will be free of charge).
Once you will pay the deposit as stated in the quotation the quotation will be considered accepted and will be binding. We will do the job following the agreed timeline.
As simple as that!

Note

You can also use this form:


Thank you.