Fast website and SEO
How to be found on the web through Search Engine Optimization (SEO) is a huge topic. Already on our homepage webdee-seoservice.com we talk a lot about SEO. Here on this page we will be more technical about what we specifically do, which setting we apply to our SEO web design, and what results we can really get.
Besides thousands of suggestions and tricks that you can read on the internet about SEO we focus more on very few important points
📚 Contents and focus on particular content
👌 Easiness of use
⚡ Speed (load time)
📲 Adaptability on any device
🗺 Local SEO
🔍 Google, Bing and Yandex sign up
😌 Look and Feel
🔒 Secure the website
See all the points in detail below here or read a more complete SEO guide from
Google
:
1.

📚

Contents and focus on particular content
Keywords, title tags, meta descriptions, images with title and ALT-text and info graphics, anchor text with title,
single h1 tag for each page
, evergreen content, original long contents, external links to informative websites.
Enhance contents with infographics, illustrations, images, or videos to maintain user engagement. The video must be played only after a click, never in automatic mode.
Bring to light your own content. You don't even imagine the material an enterprise has already in place that can be used to drastically improve authority and rank.
Provide clearly marked internal links (usually in the typical blue color) to let the user navigate inside your site. The website will be built in a way that at any given time the user with a blink of an eye should recognize: "what you do", "where you are", "what is the cost", secondary he can explore "how you do", "your timing" and other information
The language will be really close to a talk rather than a journalistic article. Very important the insertion of many questions and answers in the descriptions like: "how to use?" "How to maintain?" "How to assemble?" "How to buy?"
A search box where insert words is also a primary need better if can be automatically prepopulated while typing.
2.

👌

Easiness of use
The importance of the
above of the fold area
, the architecture of our SEO web design will try to show all the links that are possible instead of complicated sub menu' (what you hide to the visitors you do hide to the search engine too), focus on
highlight information
instead of slogan for let the visitor rapidly understand what you can offer.
Never miss
important links:
home, contacts, products or services, pricing. If you have an ecommerce links to the e-commerce section will be placed or links that open the relative products page in the e-commerce system.
The usability of the whole website will be build thinking that users will
not be in need of zoom
. White spaces (paragraph and line spacing) are very useful to let the human eyes quickly scan the page while playing and scrolling up and down with the fingers on the smart phone (yes everybody does that) using bold characters as visual clues.
3.

⚡

Speed (load time)
Image optimization
, thumbnails that can be clicked to get the bigger image instead of overlap windows of the same images, robust html/php construction
without database
, full functionality even on slow internet connection,
minify css on page
, a limited or total absence of JavaScript.
Convert "like" and other social buttons into simple links.
Instead of directly using the e-commerce platform as the main site, place links to the products page of the ecommerce while using a faster web design platform that does not load all the slowing gears of any e-commerce.
Use
common fonts
, deferred loading icons, and HTML character entities like this:
😀
. Yes, this is not an image, it is a character.
4.

📲

Adaptability on any device
Mobile friendly
and
desktop friendly
: only
one version
for any kind of screen.
To help navigation maintain a standard kind of font size format in all pages, clear visible title of the page to let understand in which page the customer did arrive straight from above the fold without the need to scroll. Always allow the logo to be clicked to go back to the homepage and create a main image on each page in order to create a visual reminder for the visitors in case they will be back.
5.

🗺

Local SEO
NAP
(Name Address Phone number), customer review linked in the contact page through an embedded Google map (
Google My Business
), suggest citations in social networks.
6.

🔍

Google, Bing, and other search engines
The
sign up process
to these entities will complete the local SEO and the overall SEO experience of your website. It does not matter if you don't like a specific search engine or you think not many people use that kind of search engine. A presence in a search engine will be noted from other search engines...
7.

😌

Look and Feel
Look and feel terms refer to the
appearances of the website
we will create. The web design is used to transfer information and interaction between the user and the owner of the website. It regards the graphical aspect and comprises elements like colors, shapes, icons, images, layout, fonts, size of the font, background colors, buttons, boxes, menus, and so on.
In web design nowadays we have to consider that
any screen, any device
give a different result. Even the same desktop computer will give a different visual result depending on the used browser. So it is like having to deal with a
liquid
instead of a solid. A document, a flyer, a business card is how it is: everybody will see it exactly as it was thought and designed. A website will give a different result that can even be manipulated by the user (simply try CTRL+).
Imagine you have a complicated logo full of small text, very nice to look and that is also able to transfer a good feeling to people that will watch it. Now, this exactly same logo on a small smartphone will result in an incomprehensible stain! All the graphics of the menu', the positioning of all the elements of your website that have been discussed for hours with the marketing team and a designer will simply vanish!
Even worst
. When the graphic is too complex you have a chance that the browser on the mobile device will ask and deliver a simplified version of your website. In this case, not only the graphic will disappear but also
much of the information
. Check the 2 following images (click to enlarge):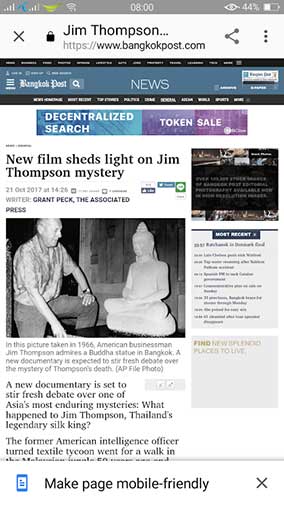 You can note that the navigation menu', the right section, some advertising, other contents did completely disappear after clicking the lower button "Make page mobile-friendly". That button is not part of any website, is Google that offers it so is not in the web designer's hands. The best thing to do is avoid this situation by offering a mobile friendly web page. At least the user can easily read after the conversion suggested by Google. Unluckily the whole design, branding, look and feel are gone. Note that not all devices react the same.
Anyway if you want to know more about Jim Thomson here the link to the real article:
click here for the article
Look and feel in a website have two main purposes. It must provide
branding
, helping understand and remember the name, the logo, the company, the product. Must give a visual confirmation that it is what users were looking for. Let them recognize something that has already seen before. Maybe in another website, in advertising, or on a social network.
Secondly but not less important, look and feel have to help visitors to become familiar with the use of the website and the navigation between the products and the information that is looking for. This second case must be
easy and fast
, especially if the customer still does not know you and your products/services. A small difficulty and he will
quit
your website.
So we will deliver a clean, simple, extremely easy to use and fast website that will guarantee that the information and the interactions will be fully accessible from any device in
any kind of internet connection
. A kind of
no-frill high quality
web design. Even suitable for people with some visual impairment. Visual impairment accessible website is a topic that is generally and oddly uncovered from many SEO agencies, low quality SEO agencies then.
A website fast, easy to use in any condition, full of information will be also
easy to be crawled in less time and so it will be crawled more deeply in the same given time
transferring more information to the search engine. And will also communicate a sort of assurance that once it will appear in the search result any user will be able to see it. Search engines don't like to suggest slow sites or websites that can hardly be loaded/seen.
8.

🔒

Secure the website
Correctly apply SSL certificate and use updated system, avoid useless database and plugins. Limited ftp CMS.